Industry 4.0, also known as the Fourth Industrial Revolution, the fusion of production, information and communication technologies, offers a significant opportunity to get ahead of the pack and redress the background trend of falling productivity that most of the industry is experiencing.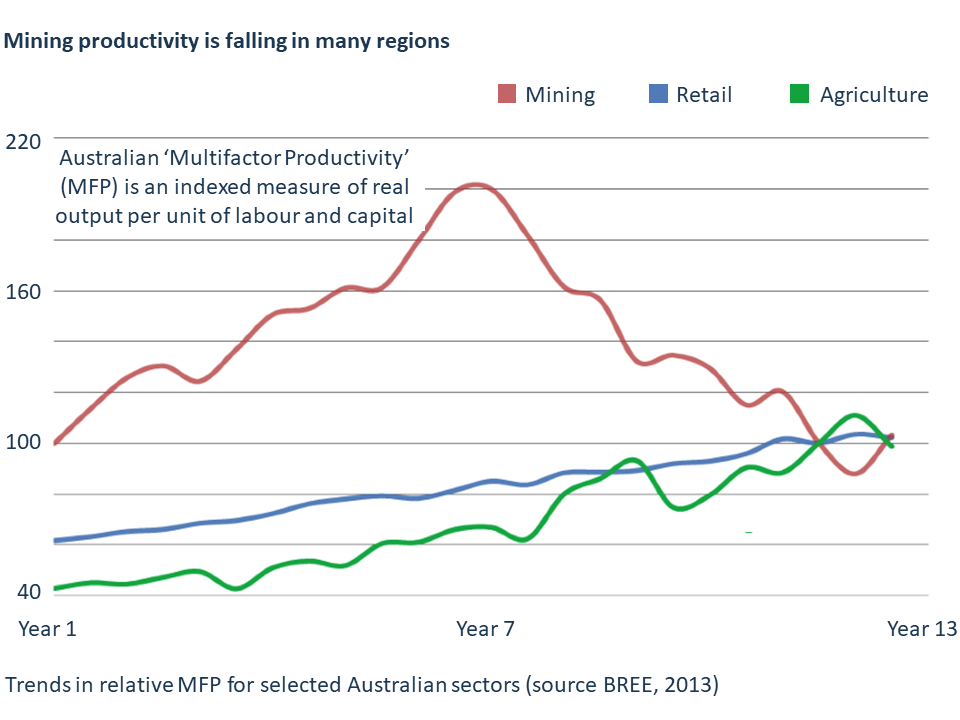 However, there are numerous examples of resources companies receiving poor returns when they invest in Industry 4.0 initiatives. Why is that? In our experience, companies commonly struggle with three questions when considering Industry 4.0: Where should we invest? How do we leverage our existing data? and How do we manage the complexity of digital transformation?
Where to invest? A Partners in Performance survey of mining companies identified that only 21% of digital initiatives were deemed an unequivocal success, and only 34% of these showed 'significant' or 'transformative' improvement.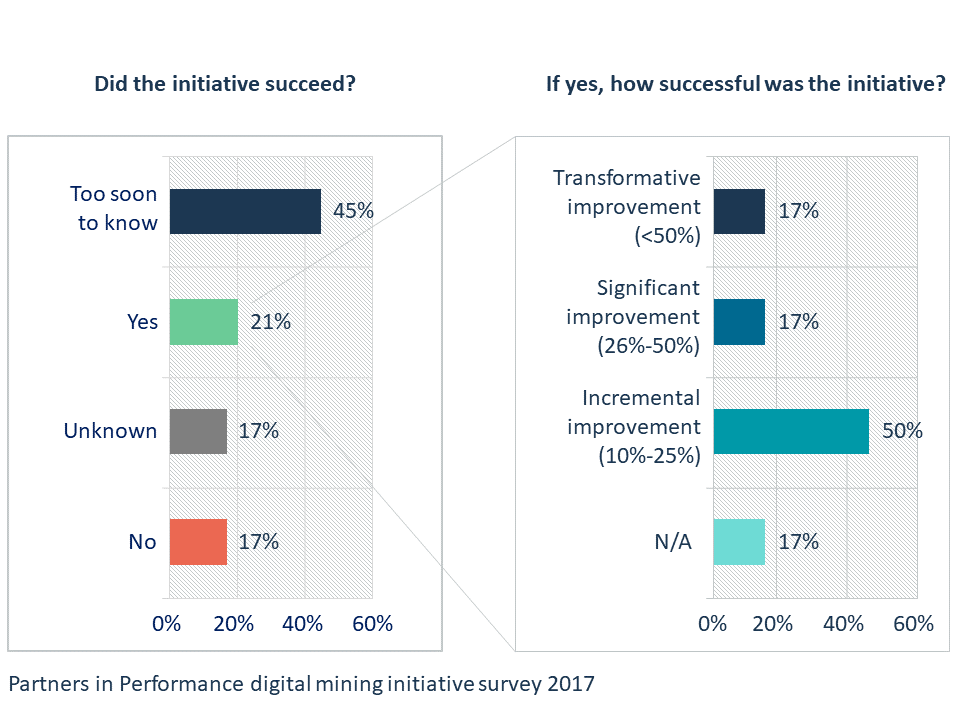 Further enquiry showed that the main causes of such modest results were a) a poor connection between the investment and the value to the business and/or b) poor execution of the investment, beyond the installation of the new technology. To avoid these pitfalls, we recommend three key steps:
Step 1: Create a Digital Roadmap – How do we get where we want to go? In our experience, a value-focused, multi-year Digital Roadmap is essential to align the organisation on a path towards value capture. The roadmap is designed to pull the levers of greatest impact and in the right order, describing a clear, structured, implementation sequence for the precious few digital initiatives.
Step 2: Year 1 Digital Portfolio optimisation – How do we deliver on the roadmap with available capacity? Employees all have 'day jobs', resources are rarely limitless, and competition for them is often intense. Before moving into execution, it is therefore important to understand the required enablers and the optimal sequencing of initiatives for maximum business return, whether the initiative will pass key investment hurdles, and how various technologies will be integrated over time. This information can then be used to build an implementation-ready, high-return, 1-year digital investment portfolio to best utilise available resources.
Step 3: Digital Execution Excellence – Where the rubber hits the road. Success in digital transformation occurs when the KPI targets in the business case are sustainably achieved, at scale across the organisation, and value is delivered to the bottom line. Purchasing the hardware and installing the software is more often than not the easy part. In our experience, where companies often fall down is in building new skills and capabilities that might be required for the successful implementation of new technology, and in driving and supporting the new behaviours required for adoption of that new technology – what we refer to as 'hard-wiring' the change.
Putting this into practice…
We partnered with an underground miner who recognised that they were falling behind on technology adoption and identified the need to innovate to stay ahead on the cost curve. The technologies the client was implementing were not delivering value and were suffering from poor adoption and sustainability. Together we developed a multi-year technology roadmap that identified key technologies and delivered value across the value chain. A clear vision was established on how the technology would benefit the bottom line, by putting in place a multimillion-dollar EBIT technology improvement pipeline and the internal wiring to deliver, adopt, and sustain use of the technology.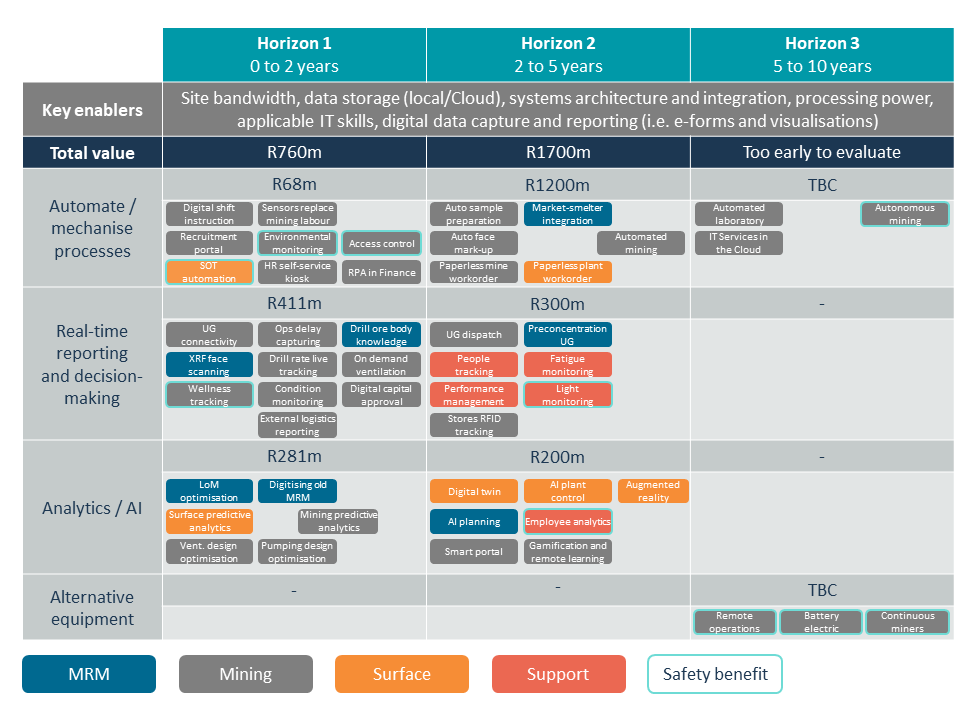 How do we leverage what we currently have? – The volume of data available is greater than ever before. We generate over 2.5 quintillion bytes of data per day (Forbes May 21, 2018). However, organisations typically only use a fraction of their data, and rarely leverage their data to provide actionable insights, create transparency of performance, and drive accountability.
The immensity of data itself is proving to be its own challenge. Companies must understand which data provide the most meaningful insights in a sea of less important metrics that mask high-value opportunities. By feeding the right metrics to the right decision-makers at the right frequency and right time, better business decision-making is inevitable. Real-time data provision enables frontline supervisors to make the right decisions in shift, in real-time.
Digital performance management automates reporting, target-setting and budgeting; building a 'single source of the truth' that cascades down to the frontline, with the right metrics and the right targets at each level.
Custom designed software (such as Value Hound[1]) helps improve the way data is digested and action is taken on information to drive overall business performance. In just a few clicks you can drill down to identify the input drivers that had the largest impact on performance in the last month/week/day.
In addition, custom enterprise tools, such as frontline applications allow these data to be actively and quickly utilised to improve decision-making. We have helped clients with real-time Short Interval Control digital applications to help bring their data to the frontline, enabling rapid issue identification and root cause problem-solving by supervisors and managers.
How do we set up the foundations to successfully manage a complex digital programme? Executives often cite that digital is important and they are under pressure to deliver on digital improvements, but only 1 in 10 digital transformations succeed. Why is this?
[1] PIPware Value Hound: quickly home in on the key issues and levers that really matter to performance https://www.pip.global/en-us/services/pipware-value-hound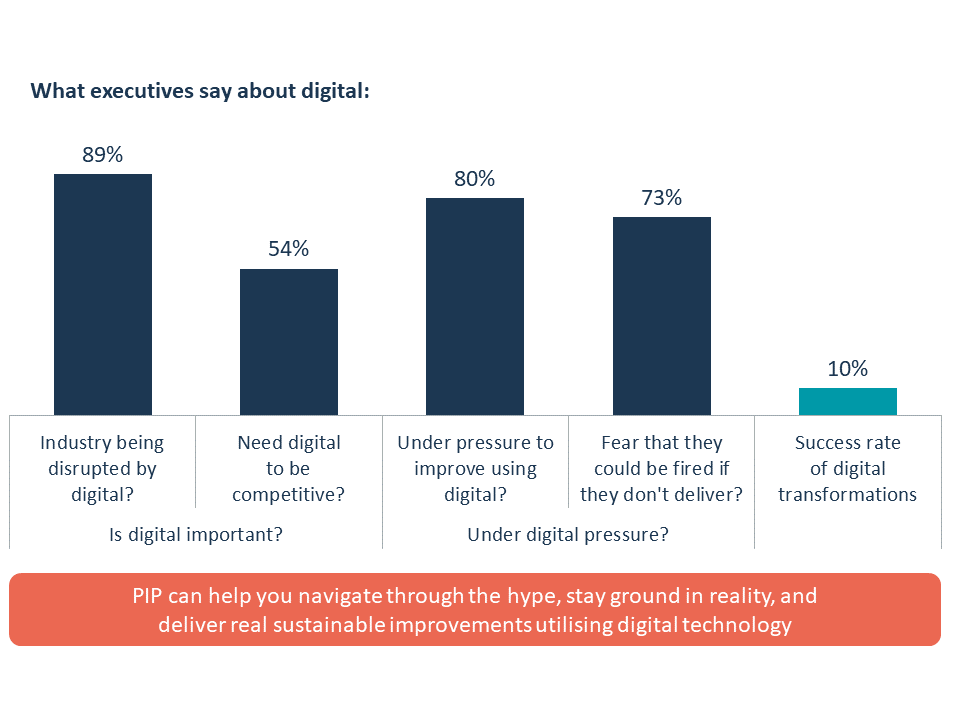 (source, HBR, 2018)
PIP has over 20 years' experience working with clients on complex transformations. Digital transformations are not unique and share many aspects of more traditional complex transformation programmes. Although seldom due to one single cause, digital transformations don't deliver on time or budget because one or many of the following are deficient: well-defined goals and a roadmap to achieve them, clear accountabilities and responsibilities (who needs to do what, by when), the means to track progress, regular reviews of progress, and strong and visible leadership. To address many of these failings, the PIPware software suite[2] provides an integrated set of tools and processes that makes establishing world-class management of transformation programmes easy, fast and reliable.
[1] PIPware software suite: making value delivery faster and more sustainable https://www.pip.global/en-us/services/pipware
Source: https://www.engineeringnews.co.za/article/mining-the-benefits-of-industry-40-2019-04-17/rep_id:4136